Graduation
Celebrating achievement
In November 2021, after much anticipation (and years for some cohorts), we celebrated the achievements of our Higher Education students at Rotherham United's AESSEAL New York Stadium, accommodating hundreds of proud families and students graduating from classes as far back as 2019. The celebrations spanned over three days, commemorating the success of over 350 graduates from the RNN Group of Colleges courses, including Rotherham College, North Notts College and Dearne Valley College, and the state-of-the-art University Centre Rotherham (UCR).
Our graduation ceremonies included inspirational guest speakers, a brass band, commemorative certificates, and a sea of graduands in gowns and caps, surrounded by proud families and friends.
You can read more about our ceremonies here or watch professional videos taken for each of our ceremonies below.
Graduation ceremony videos and photos from 2021

Click here to view photos from our ceremonies

WEDNESDAY 10TH NOVEMBER – PM CEREMONY

THURSDAY 11TH NOVEMBER – AM CEREMONY

THURSDAY 11TH NOVEMBER – PM CEREMONY

FRIDAY 12TH NOVEMBER – AM CEREMONY

FRIDAY 12TH NOVEMBER – PM CEREMONY
Graduation 2022
Our 2022 graduation ceremony will take place on 18th November.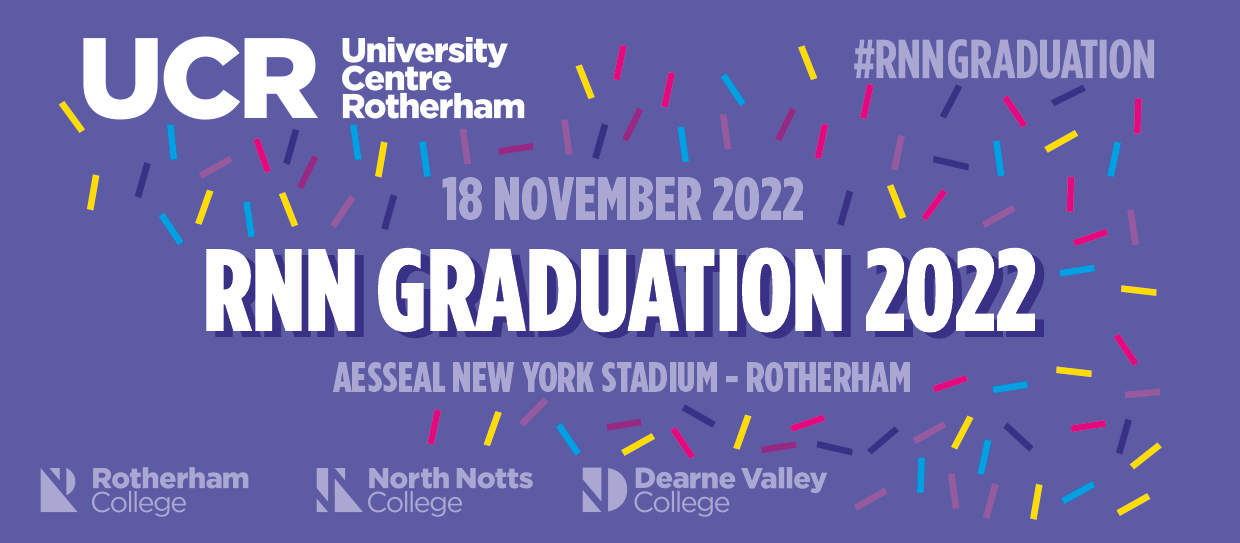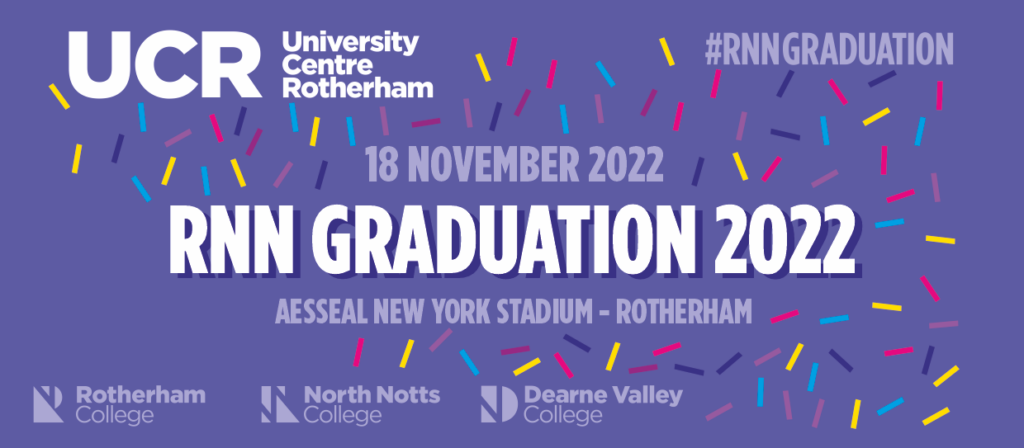 How to book – A step-by step guide
Enter your Surname and Student ID
Register your account
Choose day hire, extended hire*, or you can choose to buy your academic dress
Select your height and head size
Select how many guest tickets you need*
Let us know of any access requirements you or your guests have*
Select the photography products or memorabilia you wish to buy
Checkout and pay
After the gown order, graduands can log back in at any time to buy additional photography packages or memorabilia if they wish.
*see the FAQs at the bottom of this page for more information
Facebook group
Keep up to date with all the news in our event Facebook Group
IMPORTANT – if your Facebook ID name is not the same as the name we have registered for you, please drop us a DM or email HEGraduation@rnngroup.ac.uk so that we can let you into the group.
About the venue
The AESSEAL New York Stadium is the home of Rotherham United Football Club. Located on the outskirts of Rotherham city centre, it is a 12,000-capacity stadium with fabulous function spaces. The New York Stadium has everything we need to ensure our graduands have the very best Graduation Ceremony. Click the link to take a look at the stadium.
About the journey
Once we have final numbers of graduands and guests attending, we will confirm the exact timings of your ceremony.
On the day of the ceremony you will join us at the New York Stadium for a morning or afternoon ceremony. There is ample free car parking on site, please use the main car park to the left of the main entrance.
Register at reception
Collect your gown
Get your official studio photographs taken
Join your guests for a welcome drink in the social lounge
Guests will be directed to be seated in the ceremony suite
Graduands will create a procession into the ceremony
The ceremony begins
Graduands will collect their certificate on stage
Pause for an official photograph
After the ceremony the graduates process to the social lounge for a celebratory drink
Guests to join the graduates for a celebratory drink
Graduates to return gown, unless you have chosen Extended Hire*
Don't worry all this will be signposted and there will be ushers on site to guide you every step of the way.
*see the FAQs below for more information
Frequently asked questions
Student ID

If you do not have your student ID to book your gown, or the ID is not working, please call our Higher Education Team on (01709) 722806
Gowning or Ticketing Queries

Please contact the Gowning Company direct for any queries. You can contact them at sales@graduationceremony.co.uk or call 01234 880956
Extended Hire

Allows graduates to pay to extend their hire for five days, and the mail the garments back to the gowning company with a provided prepaid return label. This is great if you want to go out for a meal or drinks afterwards wearing your academic dress and/or have photos with people who were not able to attend on the day. There is an extra charge for this, please see the booking form.
Extra Guest Tickets

All bookings come with two guest tickets, please state how many extra guest tickets you may want if they become available. This will depend upon numbers who have booked and any social distancing guidelines that may be in place at the time.
Children

We want the whole family to enjoy your celebrations, but we recommend children under 5 do not attend the actual ceremony. For this reason, we are live streaming to the social lounge where families with under 5's can watch on the screens. They can see you before the ceremony in your gown and if you have booked family photography, they can have their photos with you, and then celebrate after the ceremony too.
Access requirements

The Ceremony Suite and Social Lounge are on Floor 1 and Floor 2 – there is a small passenger lift, please let the gowning company know if you, or anyone in your party has any mobility issues or needs wheelchair access/seating space. This includes anyone who may have limited mobility for stairs. As there are a lot of stairs, please consider your footwear.
Ceremony information

The ceremony is just under 1½ hours long, there will be guest speakers and certificate presentation. We will allocate morning or afternoon ceremony once we have all the bookings so that we can ensure each ceremony has the optimum number of guests. The closing date for booking is Friday 30 September and we will confirm the times on Monday 2 October.
Why graduands and graduates?

You may wonder why we use the term graduand and graduate, a graduand is a student who is about to receive their qualification – after the ceremony, once you have graduated, you become a graduate!
Location map
If we've not answered your question here – please call our Higher Education Team on (01709) 722806 or email HEGraduation@rnngroup.ac.uk