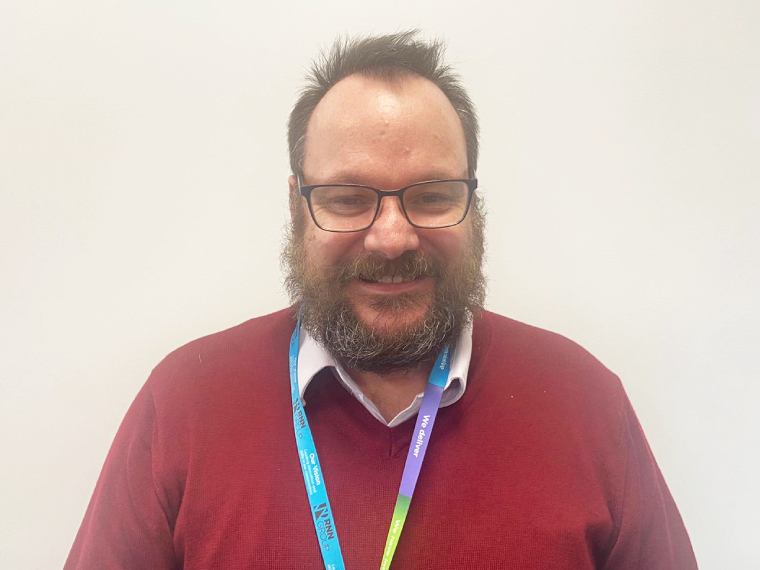 Stephen Kearney – Business
8 February 2022
University Centre Rotherham's education and training provider RNN Group have recently seen an employee embark on a learning journey. Health and Safety Manager, Stephen Kearney, has begun a Degree Apprenticeship here at University Centre Rotherham to enhance his current role. Stephen, who manages the Health and Safety across Rotherham College, Dearne Valley College and North Notts College, has enrolled on the Chartered Manager Degree Apprenticeship as he aspires to improve his managerial skills.
Stephen has worked for the RNN Group for 10 years, after leaving the army and discovering he had an interest for organisational health and safety.
Stephen said: ''I did Health and Safety courses in the army, and realised it was something I really enjoyed. I took redundancy, studied at college, and got all the qualifications I needed for my role at RNN Group''. Stephen started out as a Health and Safety Officer before being promoted to Health and Safety Manager.
Speaking about his role, he was quick to underline the importance of constant self-improvement within any line of work.
He said: ''I am passionate about my role as Health and Safety Manager, and I want to develop further within my career. I want more managerial experience, to improve myself, and also to help RNN Group within my role.
''I have learnt how to put the theory into practice, by becoming more knowledgeable on marketing, different structures and cultures, and even entrepreneurship. When writing my assignments on these topics, I constantly envision how I can bring these ideas to my current role''.
The Chartered Manager Degree Apprenticeship is delivered over three years, there is then a period of End-Point Assessment (EPA), most apprentices are expected to complete the full apprenticeship including their EPA in 4 years.
The tutors at University Centre Rotherham are from senior business backgrounds and deliver content on managing finance, operational plans and stakeholder relationships. There is also an opportunity to hear from guest speakers such as aviation experts and venture capitalists in our fantastic seminar room.
Speaking about the course, Stephen said: ''I would recommend this course to anyone who is looking to improve their knowledge within their current role, and anyone who is looking for a new career path in management. I now look at the bigger picture within my role and understand how I can help the RNN Group be a success.
''My Manager is very supportive of me, the teaching on the degree is brilliant, and it has allowed me to meet a fantastic group of people.
''I now have the confidence I need to conquer anything within my future endeavours.''
University Centre Rotherham offer Business Services courses ranging from level 5 to level 6, where you will learn from experienced senior professionals in top-quality facilities.
To find out more about Higher and Degree Apprenticeships click here