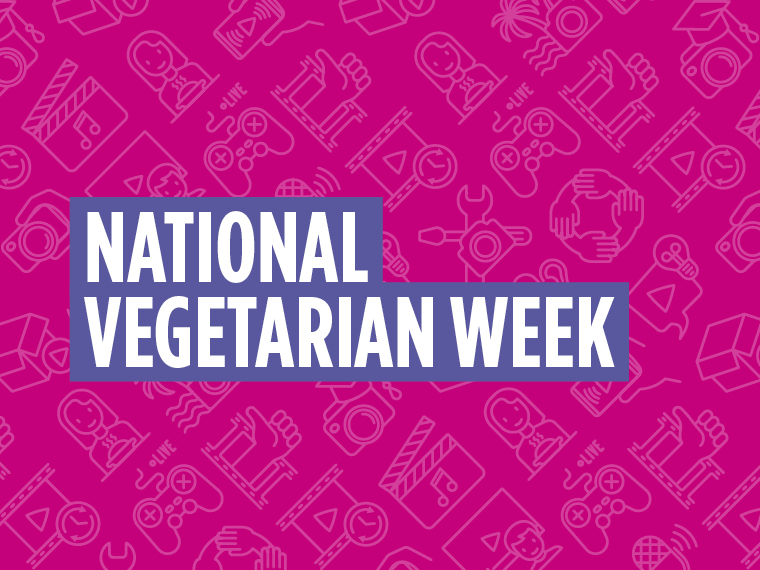 Blog: Veg Out – National Vegetarian Week
14 May 2020
Vegetables. What are they? Why do our parents always make us eat them? Why can't we just eat KFC every day? Rumour has it some vegetables grow out of the ground, and that thought is scarier the longer you think about it.
It's National Vegetarian Week so what better time to introduce a new way of thinking about food? Meat is such a large part of our diets that the idea of cooking without it is still uncommon, which means that vegetarian dishes can be an exciting exploration of new cooking concepts.
To celebrate this special week, 'lettuce' share seven very veggy dishes for you to check out and veg out on every day of the week.  Get it? Lettuce… Let us. If you don't carrot all for my vegetable puns then you're in luck because I seemed to have lost them all…I hope they turnip somewhere.
What's that? That's enough? You want to see some plant-based family favourites, inspiring ideas and veggy showstoppers? Great. Let's get our grub on!
Monday
Burger
Kick your week off with some great grub. This familiar favourite uses sweet potatoes and brown rice packed with pinches of spices for the burger patty and is generously lavished with smoky relish, burger sauce and finished with 'frisbee fries'. With a recipe by Sunday Times bestselling authors Henry Firth and Ian Theasby of 'Bosh!' you're on to a winner.
Tuesday
One Pot Vegetarian Chili Mac
Did you know 'macaroni and cheese' is an anagram of 'all things delicious'. Ok, well it definitely should be. This crowd-pleasing quick-to-make dish combines garlic, onions, noodles, stewed tomatoes, beans and spices to produce a punchy easy peasy melted cheesy feast.
Wednesday
Thai Coconut Soup
Lockdown may have grounded many of our holiday plans, but we can still get our taste buds tingling with international flavour.
Tom Kha Soup is a lighter version of the traditional Thai coconut dish made with coconut milk, ginger, spices and veggies.  This creamy and rich bowl is full of flavour and sour yet spicy!
Thursday
Bangers and Garlic Herb Mash with Onion Gravy
We started drooling just writing the name of this one. Traditional with a twist, the veggie bangers bring out the best of a beloved British dish.  The mash is also mixed with garlic, crème fraiche, parsley, chives, salt and pepper!
Get your hands on this recipe here.
Friday
Loaded Grilled Eggplant with Creamy Herb Sauce
It's Friday, so let's kick back with some melt-in-your-mouth food. This inventive recipe tops a grilled eggplant with a team of terrific toppings including a nut-based filling, creamy sauce and hearty hit of herbs. We can vouch that this unique and interesting meal will be a new favourite of anyone lucky enough to try it.
Learn how to wow your family and friends here.
Saturday
Spinach and Artichoke Spaghetti Squash
It's Saturday, you've got the whole day to do what you feel like, so why not experiment in the kitchen? This comfort food combines classic flavours of spinach and artichoke dip into a spaghetti squash! But what is a spaghetti squash? It's spaghetti from squash! Mind. Blown.
Check out the spinach and artichoke delight here.
Get to grips with spaghetti squash here.
Sunday
Potato Curry with Lime and Cucumber Raita
Music. Graze. Youtube. Graze. Netflix. Graze. Repeat this cycle a few times and you've got yourself a successful Sunday! We think that hearty food goes well with your typical Sunday, so let's have a look at a colourful curry.
This flavourful and refreshing Indian dish swirls several spices such as ground coriander, gara masala and turmeric together. This captivating concoction compliments the creamy coconut milk and peeled potatoes to create a perfect Sunday afternoon delight.
One final takeaway…
Avoid takeaways! Cultivate your culinary skills in the kitchen and you'll be amazed at what you can achieve.
We hope you've enjoyed having a gander at our suggested healthy good grub. If this perks your creative side then maybe you'll be interested in our Arts courses.