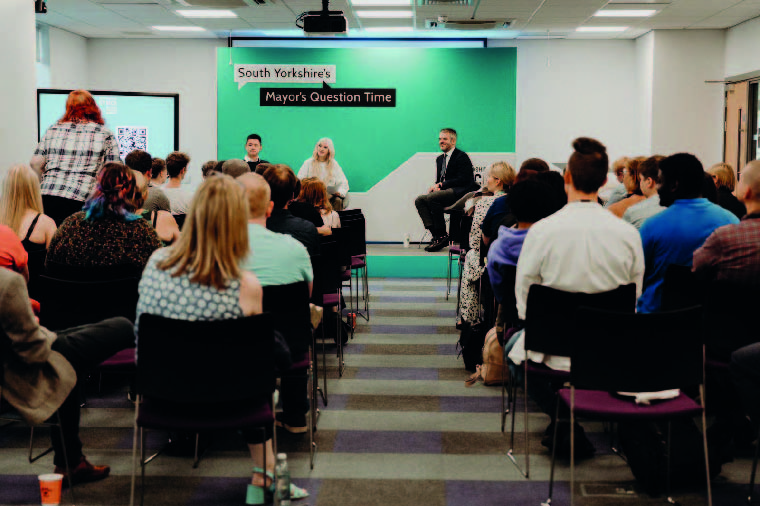 Call for Change: South Yorkshire Mayor Hosted a Q&A for Young People at UCR
9 August 2022
Recently, the South Yorkshire Mayor Oliver Coppard hosted a live Q&A at University Centre Rotherham for young people to address climate change and community issues.
The topics discussed varied from transport links to food wastage, and featured Oliver answering questions from the audience and on social media. The session inspired the local young people to have a voice and be heard.
The meeting was chaired by Curtis Yip and Rebecca Russon, members of the Youth Parliament, who were able to present Oliver with a variety of questions. Rebecca stated that the evening was a great way to bring young people together.
She said: ''It's fantastic to see that so many teenagers care about the community that they live in and the future of their planet.
''These events help prioritise what you want to see in the world, so I would encourage everyone to get involved.
''Hosting an event to have our voices heard shows that Oliver Coppard really cares about the youth of today.''
The RNN Group is particularly focused on leading and delivering on innovation and skills in the local community. Tracey Mace-Akroyd, Deputy CEO and Deputy Principal, stated that the UCR building was the perfect place to host the Mayors first event, as his focus was on developing skills in the new economy for the region.
She said: ''As a Group, we know it is important that our students and young adults in the local community are included in discussions to do with their future, so this event is a great opportunity for them to ask questions of the new Mayor.
''It will help young adults to feel reassured about his plans for the region over the next few years and to find out what he is going to do to help and support them."
Since being appointed the Mayor of South Yorkshire, Oliver stated that he wanted to do an event within the first 100 days in office to ensure the community felt valued.
He said: ''The young people at this event are the future and have a huge role to play in the success of the region.
''I want them to know they can work in politics as a councillor, an MP, or even the Mayor. If I can do it, then they can do it.
''I want to encourage them to stay involved and focus on the things they care about as there is no reason why they can't change the world.''
Want to find out more about the Mayor of South Yorkshire? Click here!
Considering studying at university? Find out more about our courses!