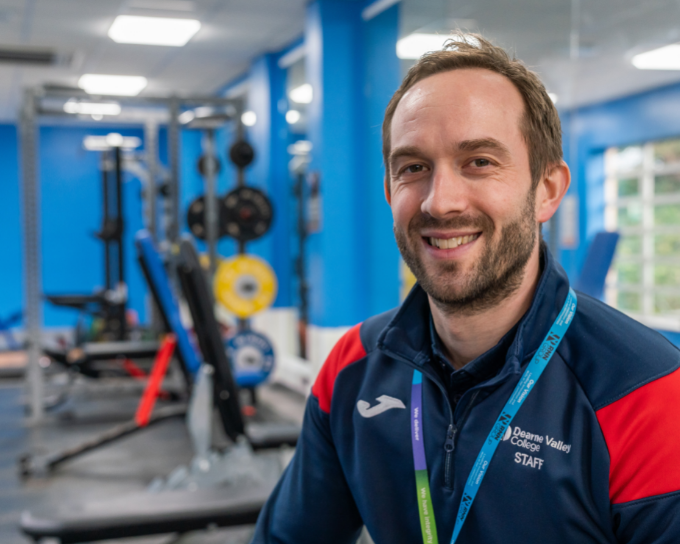 Stuart Prentice – Curriculum Team Leader in Sport
30 May 2022
University Centre Rotherham is known for its fantastic industry-experienced staff. Curriculum Team Leader in Sport, Stuart Prentice, is part of our amazing team who has years of sporting knowledge to share. All of our Higher Education courses in Sport are taught at our fantastic facilities at Dearne Valley College, one of our other campuses run by the RNN Group UK, an organisation that also looks after Rotherham College and North Notts College.
Stuart studied Sports Science at Lancaster University before moving to Barnsley, where he secured his first role as a Fitness Instructor at the Metrodome. At 26 years old, Stuart became the General Manager of the Spa and Fitness suite at Burntwood Court in Barnsley.
Stuart discussed how this role required lots of responsibility. He said: "I was in charge of roughly 30 staff and managed a lot of different teams – Reception, Marketing and Sales, Cleaners, Bar Staff, the Fitness Team, as well as plan the weekly fitness classes. After doing the job for five years, I started wondering what was next?
"I felt like I wanted to use my knowledge and experience to put something back into the local community. This led me to apply for a part-time teaching role, which I was successful in getting due to my vocational experience."
After over ten years in the industry, Stuart started studying for his PGCE, whilst teaching part-time and working in the Health and Fitness industry six days a week.
In 2010, Stuart secured a part-time position at Dearne Valley College as a Tutor, before progressing up to Curriculum Team Lead, a position he has held now for three years.
Stuart said: "It's great that the entire team at Dearne Valley College has a specific skill set, as all of the teaching staff have industry experience. We have all been fortunate enough to gain a wealth of knowledge and experience that can benefit the students."
''A lot of the units I teach are fitness and nutrition-based, as well as working with special populations. All of the staff feel very competent and confident teaching the students.
He continued: "All of my students have a real passion for sport and fitness. I really enjoy working with the students, passing on my advice, giving good guidance and mentoring the students."
''My favourite aspect of teaching is seeing students progress and develop, as it is such a rewarding feeling and I am truly passionate about helping young people to grow into talented individuals.''