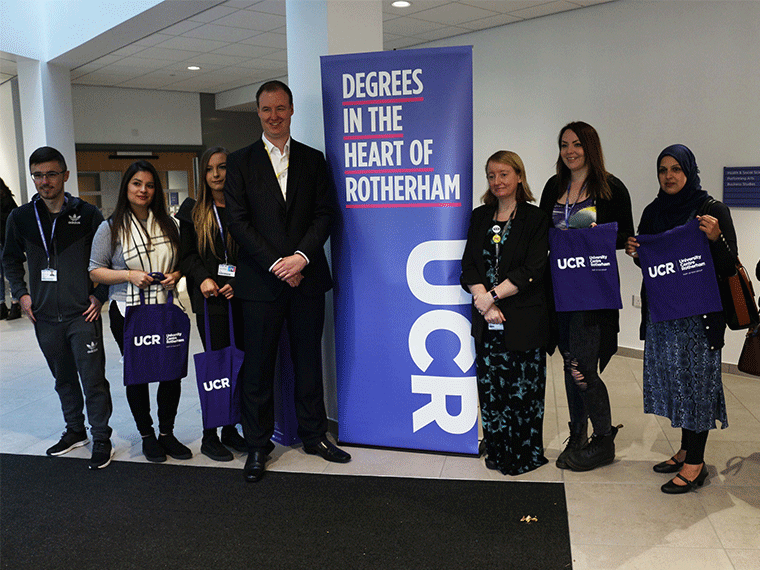 New University Centre Rotherham welcomes students for first day of term
24 September 2018
With over 30 higher-level courses currently on offer, we are proud to have opened our doors to students and adult learners for the first time.
On Monday 24 September, we began providing access to degrees and higher-level qualifications in the heart of Rotherham. Accredited by both Hull University and Sheffield Hallam University, courses at the University Centre Rotherham (UCR) are accompanied by tuition fees under the £9,000 charged by many universities.
We offer a wide range of courses in areas including business enterprise, graphic design, performance, education, computing and media and photography. Our newly-opened 3,300m² campus houses a range of dedicated facilities including seminar and lecture rooms, independent group study spaces, a fully-equipped library, a café and exhibition spaces.
Asked about why they'd chosen to study at UCR, PGCE student Abbi Heaton highlighted the facilities:
"It's really modern and seems a great place to meet loads of new people; it's good for Rotherham. After this PGCE in Adult Education I'm hoping to get into adult teaching."
Games Design student Joshua Barthrop echoed this emphasis on UCR's facilities:
"The equipment I'll be using will mainly be modern computers. We also have a virtual reality set ready and easy access to loads of software to use. My first impressions are that UCR is very modern and specialised for people studying different courses."
Jana Checkley, Director of Higher Education and Skills at RNN Group, said:
"UCR is a fantastic facility for our students providing the wider community greater opportunities to study degrees and higher-level qualifications locally. I am really pleased to be welcoming our students to the start of term today and look forward to supporting them on their journey to reaching their aspirations."
Student support seems to be on the minds of many of the fresh-faced students. Lavin Mohammed, studying a BSc (Hons) in Computing and Systems Development, said:
"UCR is good for me because of the help I get from the staff and teachers. They're helpful and kind to the students."
Student Abbi Heaton added:
"There's a lot of great tutors here at UCR who have experience of the industry and how to get where I want to be."
We are operated by leading education and training provider RNN Group. Working closely with employers, RNN Group expects to expand our number of university-level courses on offer from 32 to 50 by 2020. These courses will include digital, creative, health, technical construction, engineering and leadership and management.
Going forward, we aim to attract 1,000 additional students over our first five years.
Sally Parker, studying for a Certificate in Education, believes that these students will be welcome:
"For higher education, this is our own building. The facilities and tutors will help to make a great experience."
When asked about her prospects for the year ahead, student Lavin Mohammed said:
"I think it's going to go well; I'm really excited. New equipment, new computers, new building!"
For more information about UCR and the courses available visit ucr.rotherham.ac.uk/what-we-offer/