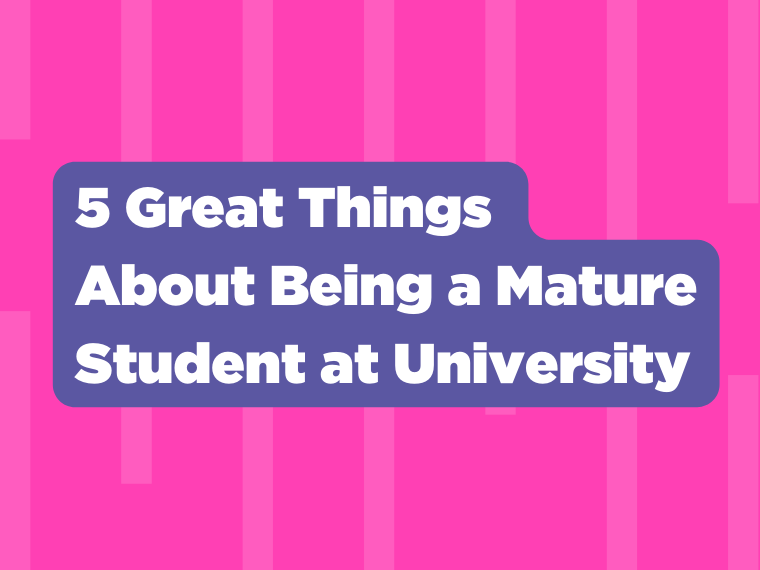 5 Great Things About Being a Mature Student at University
20 April 2022
Thinking about returning to education? A lot of people think this is unheard of, but returning to education is the best decision many adults make as it enables them to access a whole new lease of life. However, we understand that returning to education can be scary and is something you may never have imagined doing again. But, there are many great benefits to being a mature student at University and we will support you every step of the way.
Here are 5 great things being a mature student at University can bring…
Your life experiences will help you navigate your way
Life experiences happen to us all, and it is arguably these experiences that shape who we are as individuals. The older you get, unfortunately, the more likely you will have experienced some form of hardship and pain. However, this will give you a whole new perspective on life, one you may not have had at 18. You will be stronger and wiser, and probably more appreciative of the chance to return to education. You will have a clear motivation of why you came to University, and what you want to get out of your studies.
You can understand lectures in a different way
Just like any student there will be times where things don't make sense or are confusing, but that's okay! Lecturers are on hand to give you support wherever you need it. Being a mature student may allow you to view lectures in a different way which will support you even more – you are able to apply reality to theory. This may be because you have already worked on a similar project within your working life, or experiences have enabled you to view things with a different outlook. Whatever the reason, life equips you with plenty of real-life examples which you can apply to your studies.
You've had more practice at organising time 
The likelihood is that returning to university late, means you have already started your career. You may be coming back to university to change careers, or build on your current one. Whatever the reason, working in an industry means you have to be good at organising your time. This may be getting up in the morning, shifting plans to the weekend, or figuring out how to balance family life with work life. Coming to university later on in life means you have had this practice, and balancing commitments just comes naturally to you. This may make studying easier for you than if you had decided to enrol at a younger age. It also should encourage you that anything is possible, and give you confidence that studying as a mature student is easier than you may think.
You forgot how amazing student discounts can be
Being a student means having access to thousands of different offers and deals, such as discounts on clothing via Unidays, or even a student railcard which makes travelling cheaper. So, if your travelling to university via train, you can worry far less about having to pay for expensive tickets. Unidays also offers various food and cinema deals, meaning your new-found student life can benefit your family too, as going out can be made more affordable.
You're studying something you're truly passionate about
Having time away from education can give you the headspace to decide what it is you really want out of your career, and gives you the appropriate time to reflect. To make that decision to return back into education, it must be something you are really passionate about, which is fantastic. The worst thing would be studying at university for a course you don't like. Loving what you do is the first key to unlocking success. There are plenty of different courses to choose from at University Centre Rotherham, meaning you'll certainly find something which is perfect for you. 
Well there you have it, the best things about returning to university as a mature student! Don't be scared or nervous, just enjoy this new life adventure you are about to embark on! We can't wait to welcome you in September.