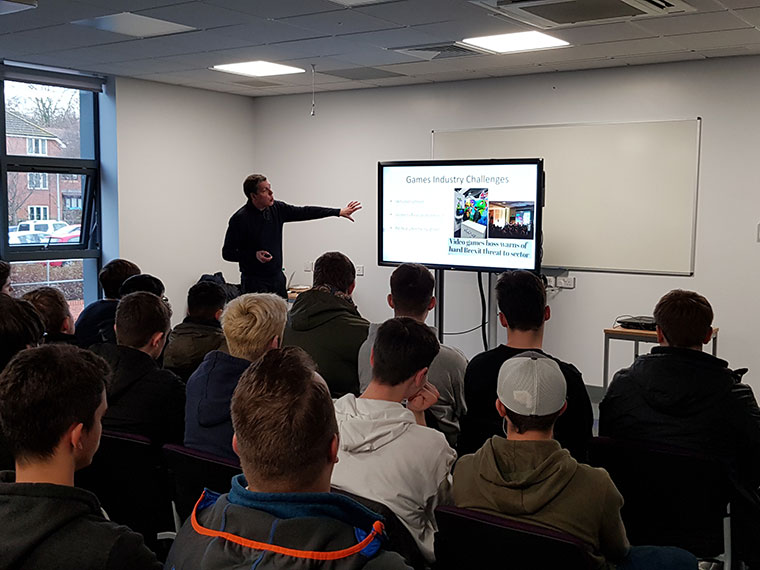 Game Republic give Digital Students a Masterclass in the Games Design Industry
12 December 2018
Game Republic, a company that runs the two largest networks in the North of England, has visited University Centre Rotherham (UCR) to give a talk to 70 students on digital courses across Rotherham College, North Notts College and Dearne Valley College.
Managing Director of Game Republic Jamie Sefton, who has over 20 years' experience of the games design industry, led the talk and approached topics on breaking into the industry, local employment and examples of the latest video games on the market that have been developed in the Yorkshire region.
Jamie said, "The aim of our company is to make sure that designers and coders, both established and junior, that are working within the Yorkshire region have the opportunity to collaborate and work together on some fantastic projects.
"This is why we run arranged meetings and hold business-focused networking events in the region with major international companies including Sony Interactive Entertainment Europe, Microsoft and Amazon to name a few."
Students were then invited to ask any questions they have on how to be successful within games development, career paths and how to build a diverse and successful team and company. This was followed by a working lunch at Rotherham College's training restaurant The Wharncliffe, prepared and delivered by Catering and Hospitality students.
The masterclass given by Game Republic is part of the college's involvement in the Teach Too project, a programme that aims to make young people aware of the array of local businesses and what they offer to help them stay locally and drive the economy forward, as well as giving employers a direct involvement in designing, planning and developing courses.
The project also aims to help raise learner aspirations, support students to develop a broad set of employability skills relevant to industry and and additionally provide routes to higher-level employment opportunities.
For more information about the courses we offer click here