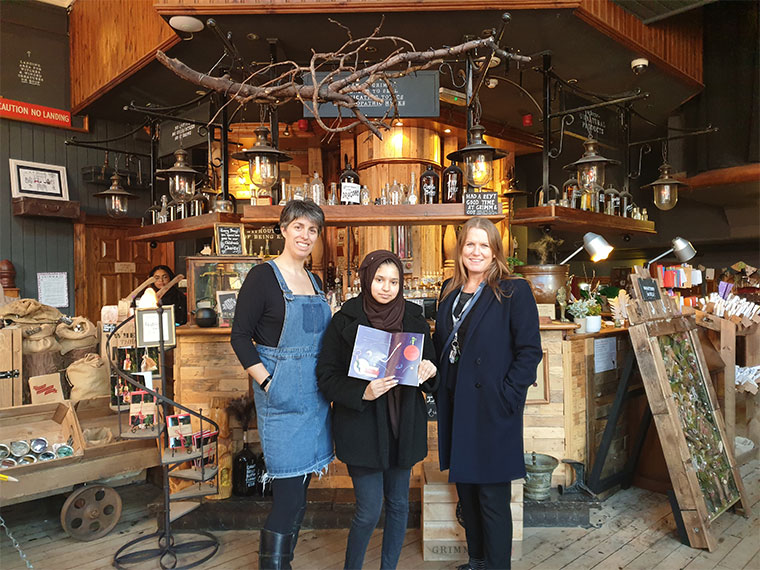 UCR Graphic Design Student Adds Inspired Illustrations to Children's Book
26 November 2019
A sprinkle of magic was added to Rotherham Town Centre recently when University Centre Rotherham Graphic Design student Aleema Ali illustrated a new children's book for Grimm and Co's 'apothecary to the magical' store.
The book, 'A collection of Majestic Thoughts', contains several short poems and stories written by local schoolchildren. Aleema helped decorate the pages with illustrations inspired by the children's writings.
Aleema said: "The stories are very imaginative, so it's been fun to visualise their creativity. One example would be superheroes and villains.
"It took me a while to illustrate their ideas – it's been about four weeks of work in total. It feels great to see my work in print!"
Aleema will be working with Grimm and Co in future to help create the exciting atmosphere of the store.
Aleema added: "I'm going to be getting involved with Grimm and Co more in the future. When children visit they write stories; I'll be helping bring their creativity to life with quick and interesting sketches. I'll also be helping produce tailored greeting cards – Grimm and Co is a very creative environment so I'm looking forward to helping out.
"It's a wonderful thing to put your hand to something you really enjoy."
 Grimm and Co Communications and Fundraising Coordinator Louise Treloar welcomed Aleema to the apothecary store to discuss the new book.
Louise said: "For a mortal, Aleema's illustrations certainly are magical. We're very pleased to have her work adorn pages in our book 'A Collection of Majestic Thoughts'. We look forward to welcoming her into our magical realm when working together in the future."
University Centre Rotherham Graphic Design Lecturer Tracy Gelder visited the store with Aleema.
Tracy added: "Seeing the work Aleema has put into her illustrations, I'm proud to see her efforts recognised as part of Grimm and Co's exciting new book.
"It's a wonderful thought that our students are having such a positive effect on the local community and, in this case, the next generation of young learners."
Find out more about our Arts courses.