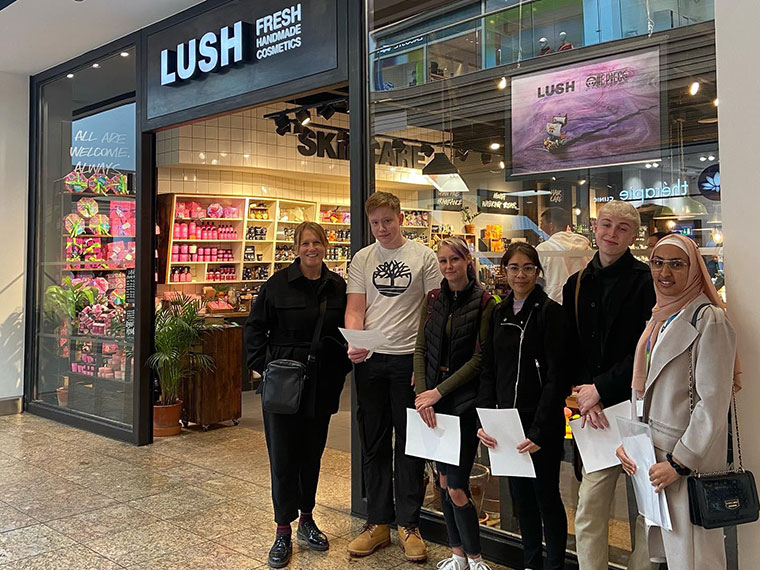 Graphics Galore: Level 3 Students Explore the Industry at Meadowhall
7 October 2022
Rotherham College students have embarked on a trip to Meadowhall to bring their learning to life beyond the classroom.
Level 3, Year 2, Graphic Design students visited Lush and the Apple store in Meadowhall to analyse different styles of packaging and how graphic design is crucial to sell a product.
In the Lush store, students spoke with members of staff about how the products are all wrapped in biodegradable packaging, everything is vegan and all products can be returned and reused.
In the Apple store, store assistants talked to students about branding and how this relates to their learning at college.
Graphic Designers are required to consider every element to a product's design, including colour schemes, sustainability and texture. Level 3 student, Dudley Bowring, stated that the trip expanded his knowledge by bringing learning to life.
He said: ''Visiting Lush and the Apple store allowed me to open my eyes to different elements of packaging such as themes and sustainability which I can use in class.
''It is only October; however, stores are already introducing Christmas ranges. Graphic Designers need to think ahead about trends and what a customer may want.
''I have thoroughly enjoyed relating our studies to the industry and I can't wait for my trips and experiences.''
The current module being studied in class is 'characteristics and contexts in media and communication'. Lecturer in Graphics, Tracy Gelder, stated that the visit to Meadowhall allows students to see where their careers may head.
She said: ''The module covers communication and branding, and allows the students to understand why they want to become a designer.
''Students can look into their employability links for the future and decide where their futures may be based on large brands.
''We encourage all designers to be ethical and this experience brings that to life for our students.''
Want to know more about our Graphic Design course? Click here!