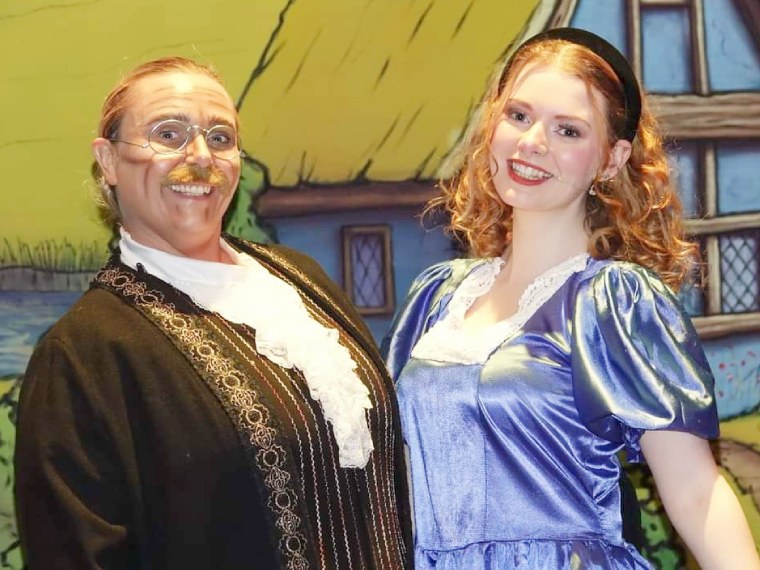 It's Show Time: Student Manages the Media Make-up at Goldthorpe's Dick Whittington Panto
25 January 2022
A University Centre Rotherham student showcased their phenomenal talent and skill at Goldthorpe's Dick Whittington Pantomime by creating their sensational make-up looks for the stage.
Kelly Birkin is a student on the BA (Hons) Theatrical Hair and Media Make-up Top-up course. The Hair and Beauty course also offer a Foundation Degree in Theatrical Hair and Media Make-up, as well as an HNC/HND in Performing Arts and Specialist Make-up, which is held at the Retford Post-16 Centre.
The Pantomime at Goldthorpe has run since the 1920s, and performing in January has become a local tradition. The show ran from the 21st to the 23rd of January and encouraged families from across the region to come and watch the wide range of talent on display. Kelly's family have performed in the production for many years – her Auntie danced and choreographed at Goldthorpe, whilst her daughter has followed in her footsteps and become a dancer in the production.
Kelly Birkin has overseen the make-up for the past two years at Goldthorpe's January Panto, creating not only looks for the Dick Whittington performance, but for the Cinderella showcase in 2019. Kelly creates make-up transformations for the entire cast, as well as herself, as she plays the male part of Alderman Fitzwarren. Speaking about the part, she stated that applying her make-up skills to transform into a man is an enjoyable challenge.
She said: ''Using Media Make-up to transform myself visually from a female to a male for my role is fantastic, as it allows me to showcase the skills that I have learned at University Centre Rotherham on my course. I also make prosthetic pieces for the performance and oversee other students from other colleges.
''My passion is theatre and performance and this is where I see my career progressing''.
Katie Asgari, Curriculum Manager in Hair and Beauty at the University Centre Rotherham, has witnessed Kelly's phenomenal talent develop whilst studying Theatrical Hair and Media Make-up. Katie spoke about the importance of gaining experience outside of your studies.
She said: ''Seeing students going into the wider world and gaining industry experience is wonderful.
''Students having success within the industry they wish to progress into builds their profile, and more importantly, their confidence. The students here at University Centre Rotherham have so much passion and drive for their future careers.
''Success stories like Kelly's showcases the fantastic development opportunities University Centre Rotherham offer, and encourages future students to study here''.