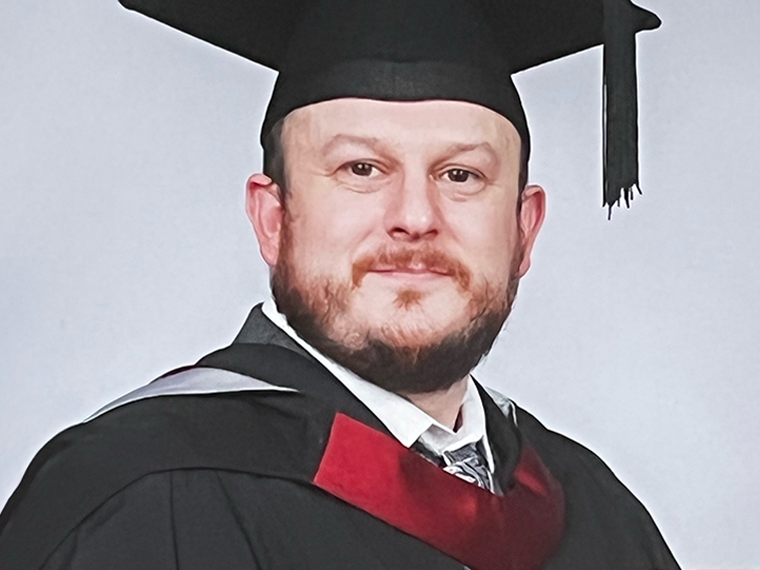 Access Your Dream Career: Access to Health Graduate Becomes Fully Qualified Mental Health Nurse
16 February 2022
A former University Centre Rotherham (UCR) student has since gone on to graduate and become a fully qualified Mental Health Nurse.
Michael Colton completed the Level 3 Access to Health course at UCR whilst securing his Level 2 and 3 in British Sign Language in order to care for vulnerable people with Mental Health problems.
Whilst studying for his Access to Health course, Michael gained experience in forensic care and was offered a job at Rampton Hospital as a Nursing Assistant on the High Secure Death Services. He completed his course and secured a place at Sheffield Hallam University where he graduated with a first-class degree.
Since becoming a qualified Mental Health Nurse, Michael has continued to work on the National Deaf Services. For excellent planning of patients' care, he was awarded a positive star from Doctor John Brewing, as well as an Oscar for the Unsung Hero Award.
Michael is now working for the prison in-reach sector for deaf people that reside in prison on top of his current nursing role. He stated that gaining his Access to Higher Education qualification has enabled him plenty of opportunities within his chosen career.
He said: ''Completing my Access to HE in Health course has allowed me to go from agency work to becoming a fully qualified Mental Health Nurse. Being a Nurse has always been my dream career and coming to University Centre Rotherham has helped me achieve that.
''Higher Education has given me endless opportunities. I have managed to complete the Edward Jenner Programme on top of my roles, and I am currently enrolled on to the Mary Seacole Programme.
''I am looking to do a Masters course in the near future which would not have been possible without University Centre Rotherham.''
Gina Burgess, Curriculum Team Leader for Access to Higher Education in Health, taught Michael on his course at University Centre Rotherham. She stated that Michael's journey is inspirational to other students who want to progress within their career.
She said: ''Seeing Michael achieve his dream role as a Mental Health Nurse is truly fantastic. He has achieved so much since leaving University, and it shows our current students that anything is possible.
''Access to Higher Education courses offers many different pathways for adults of any age who need a boost within their chosen industry. It gives people the chance to go to university and possibly even progress onto a Masters degree.
''It is never too late to accomplish amazing achievements like Michael, and access your dream career.''
To find out more about our Access to Higher Education courses, click here.