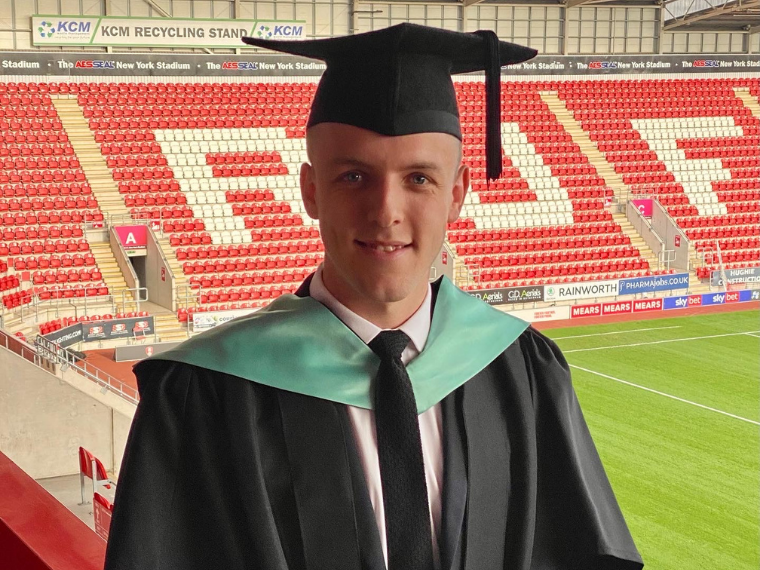 Master of Success: Sports Science Graduate Starts Master's Degree
7 March 2022
Demonstrating what you can achieve with hard work, a former University Centre Rotherham graduate has since gone on to study for their master's degree alongside their current role as a primary school teacher.
Ryan Huby is a graduate of both the Foundation Degree in Sports Science and the Bachelor of Science in Sport Science Degree. He decided that continuing his studies was the right choice for him to progress within the industry, as well as wanting to continue enjoying education after his experience at Dearne Valley College. Throughout his time at University Centre Rotherham, Ryan was able to study modules such as gym instruction, nutrition and advanced special populations.
Whilst Ryan studied with us, he was able to balance his career as a primary school teacher with his studies by coming to Dearne Valley College for only one or two full days. This also allowed him to continue building his coaching experience in his spare time, which will assist him in his future aspirations. He stated that having a balance between his work and studies suited his learning styles.
He stated: ''University Centre Rotherham allowed me to continue with my career alongside my studies, whilst also building extra experience in my own time. 'Normal' University hours would not have suited my lifestyle, so the courses were perfect for me.
''I received fantastic support and guidance on my foundation degree, which is why I continued with the top-up. The staff were excellent and always on hand if we needed support, which made a massive impact on my success.
''I believe my time at University Centre Rotherham has enabled me to pursue my career in the sports science industry.''
Stuart Prentice, Curriculum Leader for Sport and Public Services, was Ryan's lecturer on the Sports Science Degrees. Stuart underlined the importance of ensuring students have the right learning environment whilst at University.
He said: ''Allowing students the freedom to study and obtain degrees whilst also continuing with their career is key for many. Ryan was able to continue coaching as well as study, which will only enhance his future career.
''Ryan worked extremely hard on his courses, so I am thrilled that he has decided to continue his education by studying for a Master's degree. The courses develop students and help them understand what part of the industry they enjoy the most.
''Any student can go on to study for a Master's, as we give you the support and confidence to do so.''
To Learn more about the Sport Science Degrees we offer click here.