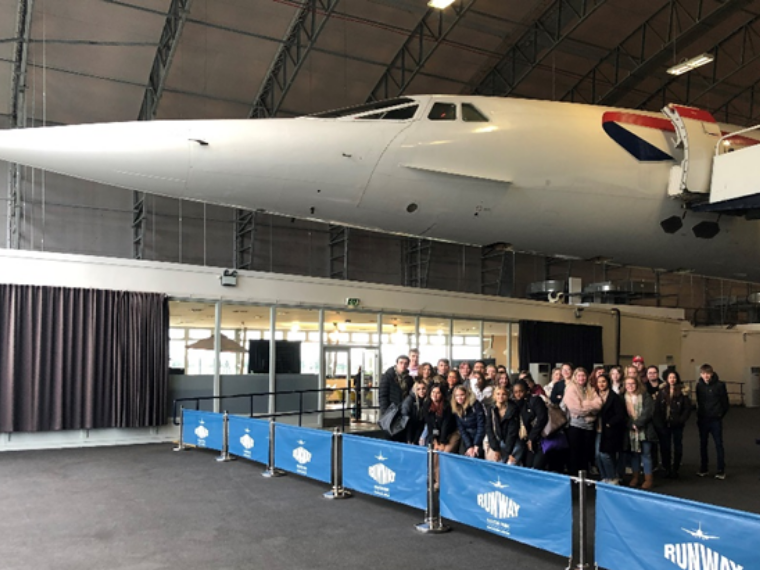 The Sky's the Limit: Students Visit Manchester Airport for Tourism Industry Insights
21 January 2022
University Centre Rotherham and Rotherham College students enjoyed understanding more about Travel and Tourism following a trip to Manchester Airport. The students learned about the history of the site, how they have dealt with the pandemic, and employment opportunities that they can benefit from after their studies.
The trip was part of the students Travel, Tourism and Hospitality Courses, with a wide range of levels participating, including the Foundation Degree Level 4 and 5 run by University Centre Rotherham, as well as Rotherham College's Level 3 Year 1 and Year 2.
The visit to Manchester Airport aimed to teach the students about their education in practice. University Centre Rotherham and Rotherham College (both part of RNN group) travelled to Manchester Airport together, as mixing students from all levels can allow them to share their experiences and future aspirations.
Staff at Manchester Airport allowed the students to view the Concorde, as well as seeing numerous first-class airlines, including Emirates and Etihad. Students were also able to see how the runways utilised, using different strategies according to plane size.
Lisa Bramley, Curriculum Team Leader for Tourism and Hospitality Management at University Centre Rotherham, conducted the trip to educate the students beyond the classroom. Lisa spoke about how important curriculum educational trips are to enhance the students' knowledge and engagement.
She said: ''The educational talk from Manchester Airport staff provided the students with a great experience.
''The trip allowed students from all levels to understand theory in practice, which can develop fantastic team building skills that they can take forward with them in their future careers. It allowed students to envision their future goals, as well as see their theory in practice. We also had a chance to take the students to the Trafford Centre, which was great for learners who had never visited before''.
The Aviation Module is run by lecturer Chloe Mulholland on the Foundation Degree Course, and she stated that it allowed the students to visualise the theory that she has taught in class.
She said: ''Allowing the students to see the theory in action gives them a better understanding of the content taught in lessons. The experience brought their knowledge to life, and will help them moving forward on the course''.
Alongside understanding how Manchester Airport runs, students were educated on the history of travel and tourism. Foundation Degree in Tourism and Hospitality student, Lottie Flear, took part in the trip. She stated that learning about the historical aspect of tourism is important to understand Tourism and Travel further.
Lottie said: ''Opportunities to have a first-hand look into the history of aircraft, with being able to explore models that have had a profound impact on the way millions travelled, allowed me to comprehend how much travel has changed.
''The trip was educational and helped me to write my assignment, which was extremely useful''.