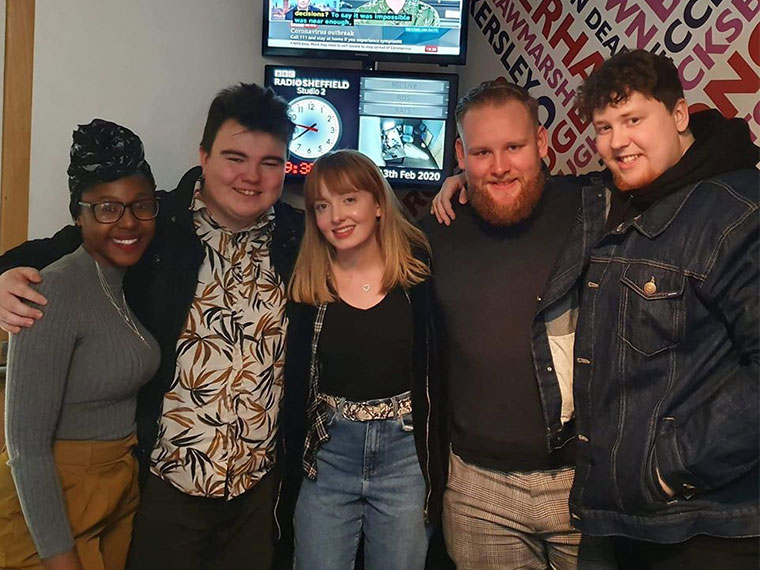 Student Theatre Company Takes Centre Stage with BBC Radio Interview
6 March 2020
A University Centre Rotherham (UCR) student-created theatre company has been raising its profile with an exclusive BBC Radio Sheffield interview. The theatre company, Anti-Social Theatre, is ran by co-founders and BA (Hons) Theatre, Acting and Performance students Ben Fitzgerald, Danny Napper and Jake Baxter with the help of Media, Moving Image and Photography student Emily Coggins.
The students discussed what it was like to be interviewed on BBC Sound's 'The Vibe' slot for BBC Radio Sheffield.
Ben said: "Being interviewed on BBC Radio Sheffield was great. It's fantastic exposure for Anti-Social Theatre Company and will help get the word out about what we stand for.
"We're aiming to raise awareness issues that build from mental health and the effect these can have on people's lives. Any opportunity for us to talk about this with a wider audience is welcome."
Danny added: "I think the interview went well; I like that we were asked personal questions in addition to ones about our company. We've always wanted to do an interview like that.
"BBC Radio Sheffield host Sile Sibanda visited UCR and gave us a guest lecture and we mentioned about wanting to go on her show. We let our lecturer Karen know and the next thing we knew Karen had helped set it up and we had a slot for a Thursday!"
"We're aiming to influence people through theatre. One goal we have in common is to communicate truth through theatre – sometimes when you watch media you wonder if the stories are real – we want to use creativity to portray an engaging act of realism."
Jake said: "At this stage we're new to having our own company. We're working on raising awareness of what we're all about and have photography, videos and promos in the pipeline.
"We're also writing an original piece and working with charities and schools to help raise awareness of how to avoid violence and get help for mental health issues."
Each of the entrepreneurial students remarked on how they found and developed their passions for performing arts, media, moving image and photography.
Emily added: "I never really knew what I wanted to do but when I went to UCR and saw the course it really agreed with me; I felt like I fit in well as I'm a creative person. Studying Media, Moving Image and Photography has helped build my confidence and it's something that I'm really passionate about."
Ben explained: "I joined a youth theatre when I was seven. At first I hated it, but then I really grew into it and adapted to performing more serious stuff such as Shakespeare. At UCR, learning on a course from my lecturer Karen really helps boost my skills.
Danny added: "I've known Jake for a long time and Ben a couple of years. When we've met up we have things in common and can be creative and come up with ideas that are really good.
"We've been toying with idea of working together and the Professional Development module gives us a platform to really strive for this.
"We feel like we're making great headway."
Find out more about our Performance and Media and Photography courses.