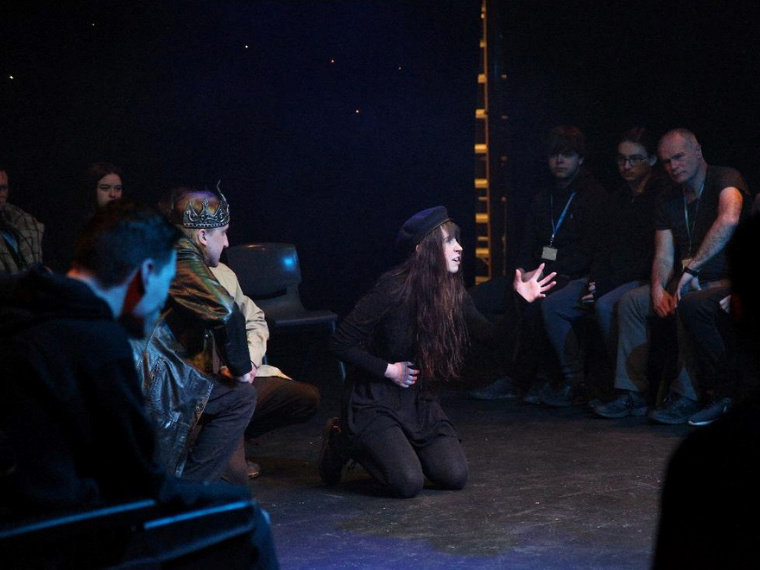 Rising Stars: Ex-graduates perform Macbeth to University Centre Rotherham During Professional Tour
2 February 2022
Graduates from University Centre Rotherham returned to showcase their talent in a professional touring performance of Macbeth, inspiring current Performance students.
Performance students who once studied at University Centre Rotherham have gone on to be represented by professional acting agents, as well as being a part of a local performance company called Breakout Arts, to showcase the talent Rotherham has to offer. University Centre Rotherham offers degrees in Popular Music Performance and Production, as well as Theatre, Acting and Performance.
The Macbeth performance was part of Breakout Arts Rotherham Shakespeare Festival, and is an engaging and innovative professional touring production. The performance aims to break arts out of their respective boxes, and should reach all audiences.
The cast and crew of the Macbeth tour featured ex-graduates from University Centre Rotherham, who have since begun fantastic careers in the performance industry.
Karen Mulcahey, Programme Leader for Theatre at University Centre Rotherham, began Breakout Arts to develop the careers of graduates as well as other talented individuals. Through Breakout Arts, she also runs the Rotherham Youth Theatre for ages 6 to 18, aiming to re-build the arts scene within Rotherham.
Ex-students were tasked to create an immersive performance with Breakout Arts, that could show schools and colleges everywhere the power of theatre. Karen spoke about how important it is for graduates to return, and show current students what their future careers could entail.
She said: ''The power of the arts has always been that it gives voice to people's stories and histories, that it builds confidence, develop skills and enhances communication. The arts enable our graduates to take control of their own lives and to express themselves to the world.
''It is great to see our graduates finding employment opportunities locally, as well as within Breakout Arts. It is fantastic to see so many of our graduates wanting to give back to their local arts community.''
Breakout Arts offers many different career paths to the graduates here at University Centre Rotherham. Benedict Fitzgerald, graduate from the Theatre, Acting and Performance Degree, has since gone on to act, engineer the sound systems, and lead the Youth Theatre for Breakout Arts. He stated that having industry contacts before you graduate is important to achieve success.
He said: ''Having real life industry experiences and contacts before I graduated at the University Centre Rotherham helped me to be ready for employment opportunities.
''Nurturing students and developing their confidence whilst studying by introducing them to industry experiences is important for success, as it helps to build confidence. I have since gone on to do paid technical roles for Breakout Arts, as well as running workshops in Sheffield.
''I could not have asked for a better step in to industry – these opportunities lie on the door step of our current students' communities.''
Click here to find out more about our Higher Education Performance courses