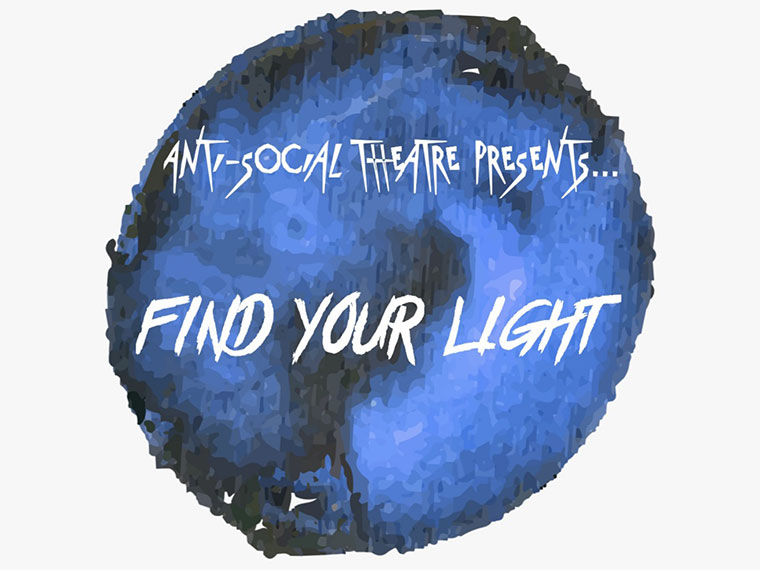 Student Theatre Company brings Online Community Together
22 July 2020
A University Centre Rotherham (UCR) student-created theatre company has been reaching out to local communities to discuss the mental health effects living with lockdown can bring. The project, titled 'Find Your Light', provided an outlet for individuals to discuss their coping mechanisms and share advice.
The theatre company, Anti-Social Theatre, is ran by co-founders and BA (Hons) Theatre, Acting and Performance students Ben Fitzgerald, Danny Napper and Jake Baxter with the help of Media, Moving Image and Photography student Emily Coggins.
Discussing how 'Find Your Light' was made and its purpose, the students shared their thought process and drive behind the positive project.
Ben said: "Jake first raised the idea to show people that they are not alone in their struggles, especially right now. As our resident tech genius, Emily did most of the work in terms of putting the video together from clips that were submitted to us."
Jake added: "After watching a horror movie on Netflix I thought it would be a grand idea to create a video about how lockdown is affecting people. Once we had video and audio submissions from the public, we changed course to make an uplifting tone and included informative facts and quotes.
"Ben also provided the music; his song title 'Find Your Light' was apt for the aim of project too."
Danny had been keeping up to date with news coming in of how many people's lives were being affected by the pandemic.
Danny said: "Mental health is a topic we're passionate about; we feel like have a platform where we can help people suffering. We've seen devastating statistics throughout this ordeal, such as one helpline seeing an increase in use by 891%, which has only further motivated us to produce a positive piece of work such as 'Find Your Light'."
Talking about how the video was made, the group shared how teamwork made their goal a reality.
Jake shared: "We all had our say every step of the way.
"We reached out to the public to provide us with diary-style videos of them discussing their mental health during this period. We accompanied this visual material with aesthetic shots, filmed by Emily, to enhance the mood.
"The process wasn't difficult mainly because we all got stuck in and enjoy what we do."
With lockdown beginning to ease, Danny shared what his experience has been like and how others affected may improve their mental wellbeing.
Danny said: "For me it's keeping myself busy and active; I start my mornings listening to positive music, then I tend to do bits of yoga (highly recommend!) and home workouts. I'll also do a bit of academic work each weekday. This helps keep my body and mind active in general.
"All in all its planning; the first thing I do in the morning is plan my day, asking myself what I want to do that day, as it gives some structure and a daily routine to keep me in a good place once this situation fades."
Moving from their own experiences to advice for others, Ben shared his to encourage those struggling.
Ben put: "It's important to remember that it's ok to take time to look after yourself. Your coping mechanisms are yours; the key is to find something positive to do for managing during this."
Find out more about our Performance courses.